What are hair color bonding treatments exactly? What do they do? How do they help my hair?
Have you ever asked yourself these questions? Let Orlando's Best Hair Salon, Educe Salon, help you clarify exactly what these bonding treatments are and what they do for your hair. We will share why we love and use L'Oreal Professionnel's SMARTBOND as our treatment of choice.
Hair Bonding treatment systems are additives stylist put into hair color, like lighteners, high lift hair color, or even Semi-permanent color. They are designed to keep the integrity of the hair shaft or hair cuticle (the outermost layer of the hair) intact to help shield against possible damage. A popular choice that most clients recognize is "Olaplex".
L'Oreal Professionnel's Smart bond treatment is amazing, here is why:
Co-created with our top hairdressers, L'Oréal's Research & Innovation Department has used its 100 years of scientific expertise and long-standing knowledge in high-performance hair care to create Smartbond.
SMARTBOND is a protective and strengthening service, specifically designed for our hairdressers. SMARTBOND is a unique system that protects and strengthens the hair during technical services (such as bleach and hair color). The system consists of 3 components, the first two being used in the salon and the 3rd one at home. It is very easy to use and adapted to the hairdresser's routine.
SMARTBOND HAIR COLOR SERVICE RESULTS:
PROTECTED & STRENGTHENS HAIR FIBER
RADIANT SHINE
HAIR FEELS NOURISHED
HAIR FEELS SMOOTH TO THE TOUCH
TYPES OF HAIR TO USE BONDING TREATMENT:
DAMAGED

SENSITIZED

DULL

COLORED

HIGHLIGHTED

PLATINUM BLONDE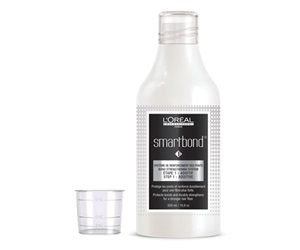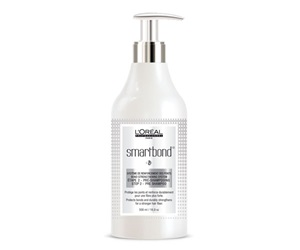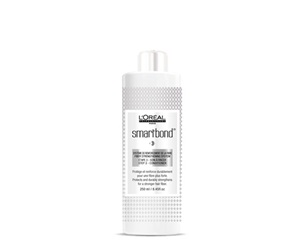 STEP 1 – ADDITIVE
In salon only 30 sec. To be put in colors, lighteners & bleaches. Bond protecting & strengthening action during technical services.
STEP 2 – PRE-SHAMPOO
In salon only 10 min. Pre-Shampoo to be applied on hair after rinsing color or bleach. Finishing action after the service helping rinsing off all chemical residues breaking weak bonds.
STEP 3 – CONDITIONER
At home 2-3 min. To be every 3 shampoos, after your shampoo. Rinse. This step continuously strengthens the fiber week after week. You can keep the outstanding salon result, at home.